| | | |
| --- | --- | --- |
| List/Finders - April Fools Day 2004 | | |

by Kobe0007



On April 1, 2004, NeoPets played a joke about how they were going to release a new TCG expansion called Quiguki Armageddon, which was obviously based around Quigukis. NNN may be one of the only places who has this April Fools Day '04 manuscirpt.

First, we start out with what the front page looked like.


---


QUIGUKI: ARMAGEDDON!

QUIGUKI: ARMAGEDDON!
We are proud to announce the third exciting NeoPets TCG set. Fight the forces of darkness and save the sacred Quiguki homeland of Quigara.
---


The news page then went further in depth with their joke. Note: Some links have since been removed by NeoPets.


---
1st April
We promised that we would let you into a big secret today, and here it is. Over the last three months, Meridell has been plunged into another war, and now - on the 30th of April starts something even more exciting. Introducing our next three month...

The ancient land of Quigara, home to the Quiguki for hundreds of years is under threat, and its up to YOU to make a difference. Our on site story (in comic and animation format) will be accompanied by a 150-card TCG Expansion, action figures, and lots lots more.





Want to read the back-story?? Click here for an exciting new Neopedia.
Here are some of the great cards from the new set! The newest expansion to our NeoPets TCG brings some awesome new NeoPets, Experienced NeoPets, Locations, Items and Equipment to make the game even more awesome!
Today's TCG Card of the Day is the Quiguki Blacksmith.
We have added the Quiguki Blacksmith to our How To Draw pages.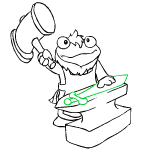 To celebrate the launch of our 2nd TCG Expansion we have some new Quiguki Buddy Icons.