| | | |
| --- | --- | --- |
| NeoPets Guides – Battledome for Beginners | | |
Here's another Battledome for Newbies guide.
by ph34r_ninja
Want to fight in the Battledome, but are new to the whole concept? This guide should provide step to step information to be a great battler. Lets start with training.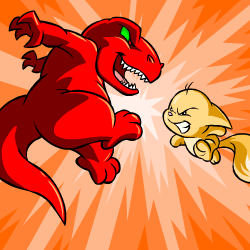 Training: There are two training centers in neopia. One on Krawk Island (The Academy), and one on Mystery Island. (Mystery Island Training Center). To start out training you first want to get your Level to 10. That's a good level to start at. Another stat (Like Hitpoints and Strength) can only go twice the amount of your Level. If one is higher then twice your Level then you will not be able to train anything but your Level. Now for a beginning battler, I would use the Academy on Krawk Island. It will on cost you one dubloon,which costs about 2,000-3,000 NeoPoints. Once you have it go back to The Academy, and pay for your course. It will take four hours for it to be completed and you must go back to the Academy and say "End Course" after it's been four hours. Once you are Level 20, it's best to train at the Mystery Island Training Center. It costs about as much but only takes three hours to finish. You will have to buy a certain codestone to pay for it. (Har, Main, Vo, Bri, etc.) Then keep training your stuff to Level 40 and get your stats to 80. What stats should you train? Strength, Hitpoints, and Defence. Speed has been proven to do nothing. After a week of training you will be well on your way to becoming a strong battler.
Weapons: Weapons can be a very important issue while battling. You think it's expensive to train? The weapons can cost a mighty sum! Some of the best weapons for a begginers are weapons specifically for your NeoPet. They are fairly strong, and are reasonably cheap. If you are looking for a stronger weapon then just those, go on that Battledome chat board and find what people are selling. Ask some people on the boards how many Icons it does. It can be VERY useful. A 5 icon weapon like the Magical Glowing Carrot is a great weapon for starters and costs around 5,000 NeoPoints… For the cheapest weapons goto the Auction House. To upgrade look around for 7 icon and 9 icon weapons… These will cost from 200,000 NeoPoints to 500,000… maybe more! But it is definantly worth it.
One-player Fighting: This is the fun part! This is where you can clobber the pant devil for stealing those items, or beating up the Brain Tree for not giving you a good item for an expensive quest! Finding a one-player opponent is a great way to test out your weapons. Every time you beat someone from the 1-player battles they gain more HP… their health will go up. If it's a very difficult opponent it will go up by 10 everytime you beat them… while an easy opponent it will only go up one. As you get stronger, the one player opponents you can defeat grow. Now lets move on.
Two-player Fighting: Two player fighting is where one persons NeoPet on NeoPets fights another. This a test of the better pet. When your weak you will fight NeoPets that are as weak as you usually and have the same weapons. But with a stronger NeoPet your opponents are only getting stronger too! So you have to upgrade your weapons. Always find an opponent with the same or similar stats then you. A Labray rat is a NeoPet that's been trained by the lab ray… you can tell this by their level and their stats. If they have a Level of 3 and have 50 HP it means they obviously were used with the labray. and they are easier NeoPets to fight, because their owner doens't know as much with battling. Always look at the NeoPets winning record though. Some opponents can fool you… They will have a small battling record, but the record they have with 1-player is only VERY strong fights… with there is better to turn down. But with someone who has battled as much as you, and has trained as hard as you… it's always fun to have a great battle. It's often more fun to have a two-player battle then 1-player.
Guilds: You are a strong battler now… and you would like to be in a guild with other battlers. How can you find a good one? Go to the Battledome Board! There are hundreds of guilds that are always looking for strong members. But if they are private there will be requirements… If one says "______ Hp+str=20+" it means if your STR and HP added together equal 20 or greater they will let you in the guild… but if they equal 19… your chances of getting in are slim. Now if you are a strong battler you probly want a guild with strong Requirements… "______ HP+STR= 80+" Thats a fairly tough guild… it means you are paying for your training. It's usually full of strong battlers, and can be a fun place to be… now guilds that say "_______ HP+STR= 300+" That is a guild that has STRONG Battlers… They always have members that have 1000+ 1-player battles. and records are VERY good… That's a guild that you may not be able to get in yet… but it's a good goal to start at for.
Faerie Abilities: Faerie abilities can be obtained by using a bottled faerie… different bottled faeries will give you different abilities… you also have to be a certain level to use them, and get a better ability. At level 19, if you use enough bottled faeries you will get the ability "Drain Life" This drains aprox. 10% of your opponents current health, and gives it to you. It's a wonderful ability and can help change the battle around… but it can only be used once so you much choose when to do use it wisely. It and other abilities are great to have too… so look around for the cheapest Faerie's and find out what they do… it's always worth it.
Conclusion: Now that you've learned so many things about the Battledome and fighting, I'm sure you want to get out there and try it! I'm sure you will learn many things about it and be a strong battler… and don't let money get in the way… just save up for what you will need… and you are on your way to being a strong battler… when you are on your way to battledome hall of fame.. try and remember me and my little guide
Additional changes and corrections by Doug.
Some content © neonewsnow.com. All other images, likenesses, names © and/or TM Neopets, Inc. 2001-2005.