| | | |
| --- | --- | --- |
| NeoPets Guides – Explore Neopia | | |
by Adrian
Meridell, Terror Mountain, Krawk Island… yes. That is a part of Neopia. Neopia is a world that holds different lands. Maybe you want to fancy luck in Tombola? Or else visit Mr. Chipper at the Ice Cream Cart. If it weren't for the worlds, we wouldn't find any of these places. So, Neopia splits sections of places to fit their scene. This guide will show you what place this is or what place there is. So, take a gander.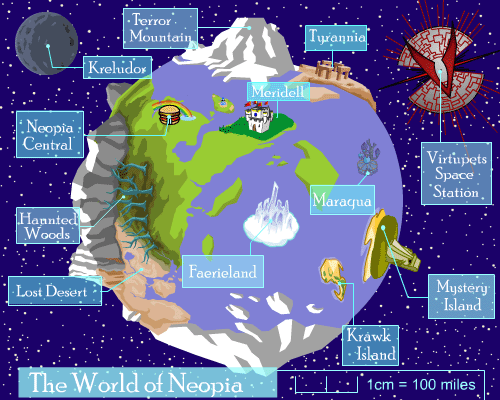 Name: Neopia Central
Description: This place holds things your NeoPet really needs. Food, clothes, toys, and sponsors. Everything is there, just for your NeoPet needs.
Smaller Worlds: The Neopian Bazzar, Art Centre, Neopian Marketplace
Name: The Lost Desert
Description: A very sandy atmosphere, the Lost Desert holds something to dry about. There is the Coltzan's Shrine which shares a long history, scratchcards that can earn fortunes, and everything a NeoPet needs. Everything is right for this place.
Smaller Worlds: N/A
Name: Faerieland
Description: Up above the skies, where the faeries roam, and the Hidden Tower is.. well… hidden, holds Faerieland! Take a gander as you can take a quest for the Dark Faerie, keep your pet healed, bet on a Poogle, or spin something that's exciting. Oh yes, this is Faerieland.
Smaller Worlds: Faerie City
Name:Mystery Island
Description: Ooh.. ooh.. ahh.. ahh. That's what you hear a mile away. Can it be the Tiki Villagers? It might. We're right next to Mystery Island! Yes, on this island, you can maybe have fun and pull out a ticket in Tombola, get a saying from the Mystic, visit the training school, or walk along the beach. If you do, be cautious. This play can get a little mysterious.
Smaller Worlds: N/A
Name: Krawk Island
Description: Arrgh, ye matey! Welcome to ye Krawk Island! How about fancy a game of Deckswabber, or ye Buried Treasure? Try eh bit of sea lubbers food at the Dubloon, or anything that keeps ye smarter.
Smaller Worlds: N/A
Name: Virtupets Space Station
Description: You finnaly made it to that space station. Well, why not stay a while? You can make a Grundo a new friend, eat some food out of this world at Grundo's, or pull a lever. Well, I mean, pull THE lever. I'd leave early, though. The trip back can take a while.
Smaller Worlds: N/A
Name: Haunted Woods
Description: Ack! That stupid Spyder. Welcome to the AHHHH! Haunted Woods! How about talking to the Brain Tree, or getting the Esophagor some munchies? Maybe hit some coconuts or get a little prize from a cork gun? Have fun and make sure you don't bump into a ghost.
Smaller Worlds: Deserted Fairground
Name: Tyrannia
Description: Don't mind the villagers. You're welcome to stay at Tyrannia! How about a game of Keno? A concert would sound nice, maybe Chomby and the Fungus Balls would be playing. Afterwards, we can take a walk in a scary cave and that… never mind. Just have fun.
Smaller Worlds: Tyrannian Plateau
Name: Meridell
Description: Welcome to Meridell. Bow down to the King before you leave. First, let's check out Cheese Roller, or maybe some Turdle Racing. How about a chat with the king himself. Whatever you do, don't go into the dark creepy island floating.
Smaller Worlds: Meri Acres Farm
Name: Brightvale
Description: Brightvale.. 50 miles from Meridell. Chit chat with the king? Maybe a roll at the Wheel of Knowledge or saying the words of wisdom. Maybe buy a scroll or have some fun! But remember: Don't talk about Meridell.
Smaller Worlds: N/A
Name: Maraqua
Description: Thank the king that people can come to Maraqua now. While here, let's take a swim to the Underwater Fishing, maybe a bite at kelp, or check out some people at their Neohomes. Remember to take a big breath before you go deep down.
Smaller Worlds: Maraquan Ruins
Name: Kreludor
Description: Boing! Take a jump! You'll go high! Not much to do but jump, you can get a Neocola from the Vending Machine, have some food at the cafe, read some books, or try to get in the mining corp. But, just in case, take this air pump.
Smaller Worlds: N/A
YOU MUST KNOW MUCH OF THE WORLDS BY NOW… right? Well, I'm glad you did. Becauser we are DON- No.. we're not. We have other worlds. Wanna know what? They're Mini-Worlds!! Right now, there are a little, but sooner, there will be more. Here are the worlds.
Name: Roo Island
Description: Where Blumaroos go around. Why not ride the Merry-go-round or play Dice-a-roo? Wanna raise a level at Count Voo's? Whatever it is, just try to be bouncy today.
Smaller Worlds: N/A
Name: Kiko Lake
Description: All around, you'll see Kikos. Kiko buildings, Kiko boats, Kiko everything! Try a Kiko hard candy, or a tour around the lake. Maybe some foods that will knock you out like the band-aid on a Kiko. Just have fun and take this band-aid and put it on your head. You'll fit in.
Smaller Worlds: N/A
Name: Lost City of Geraptiku
Description: In depths of Mystery Island, there's a small village to roam around. Not roomy by at least you're there. How about looking at the Colouring Pages or maybe, bringing home a petpet. Or sometime, try visiting the Deserted Tomb. Just remember to not get lost.
Smaller Worlds: N/A
Well, this is ALL the worlds. You should get more used to it. Have fun now.
Some content © neonewsnow.com. All other images, likenesses, names © and/or TM Neopets, Inc. 2001-2005.