by Mr. Muffinman
So you have found your way to my lab, have you? I'm working on a new experiment, a ray that will give any NeoPet super powers, and great strength. Of course it's not finished yet, but if you are willing to take the risk then I may let you have a go.
Collecting the Pieces
The lab map pieces are very pricey, but easy to get your hands on. Since they are given away daily in random events, chances are you'll probably snag one – eventually. The whole map itself goes for about 350k and each piece ranges from 10k-50k. Most people save up and buy the complete set off of trades, rather than a piece at a time.
Basics
You can only zap one NeoPet once a day. These changes cannot be undone and it's random on what happens. The lab ray is located under Treasure Maps in the puzzle games section.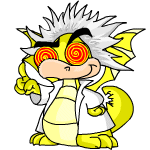 Hee hee hee!
The ray is fired at (petname)…
… and he changes gender!!!!
Can and Can'ts
The labray is limited to do only certain things. They even have certain colours you can only access by zapping your NeoPet with the lab ray.
Dos:
Change NeoPets colour.
Change NeoPets species.
Change NeoPets gender – oh no!
Descreate your levels, strength, movement, defense.
Descreate your levels, strength, movement, defense, and even put your NeoPet back to level one!
Gain levels, strength, movement, defense, AND maximum hit points.
Don'ts:
Increase intelligence.
Cannot change colour to Baby, Pirate, Plushie, Quiguki, Royal, or Usuki!
The Avatar
Avatars are a big thing in NeoPets now, almost everything has an avatar attached to it. To win this lab ray trophy, your NeoPet must change species. For example, if it goes for a Blue Kau to Blue Mynci, you will win. The colour doesn't matter.

Some content © neonewsnow.com. All other images, likenesses, names © and/or TM Neopets, Inc. 2001-2005.